Written by Joe


t:

affirmations, meta
1 Comment
When things get weird, I like affirmations to remind myself I don't actually, like, suck. I suppose that's something to do with the flawed but authentic idea here. So, click this.
(Something I built some time ago)
And I should introduce myself, I'm Joe. I blog, ever more infrequently, at artlung. I'm married to the owner of this here Flawed But Authentic blog, leahpeah. Yesterday and today I spent some time doing some rehab on the blog. It looked like something like: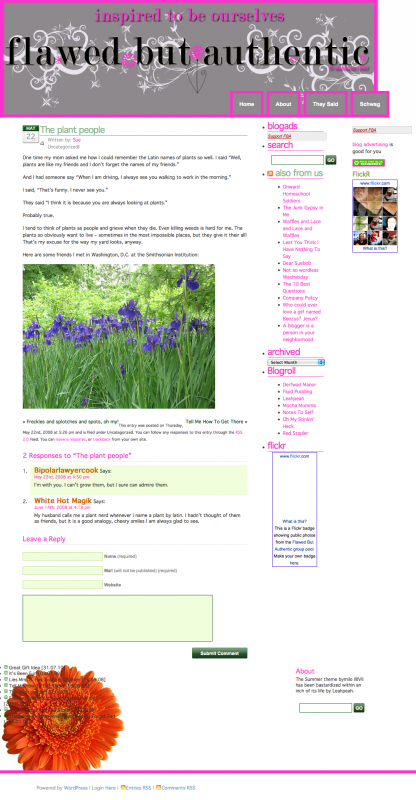 It was a good theme, a hacked-on version of the Summer theme by miloIIIIVII.
It wasn't working out, so I changed it up and tightened it up to what you see on the site now.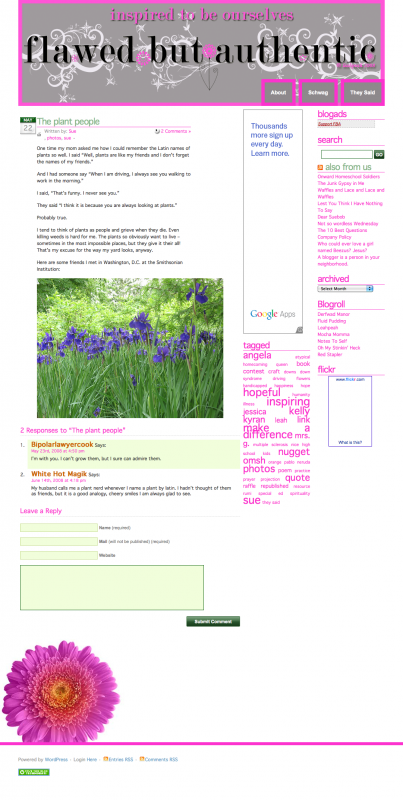 Some of the changes: I put the header in the header, where it belongs, rather than having it attached to the body, which was not working right. It made the navigation all messed up. I also made both the sidebars proper dynamic sidebars so Leah and the other editors can manage them easily herself. I also went into the old posts and did some cleanup on the markup of some posts. A few older photos and linked images are missing, unfortunately. Linkrot is sadly pervasive. I also had fun compiling the rss feeds of the FBA authors into a nice tidy sidebar. Theoretically, it will update periodically as they all blog. We'll see.
So, uh, that's it. Sort of meta, yeah? But the affirmations bit is on-topic for the blog, so it's all good.