Written by leahpeah

2 Comments
At Eat the Damn Cake!, Kate covers so many subjects I can't name them all here. But you should know that her writing is powerful and interesting and I agree with her on a lot of things.
Here she is eating cake in a photo taken by her friend Stephanie. Here is one of her readers, Stephanie, eating some cake. Kate encourages everyone to eat a piece and send in a photo.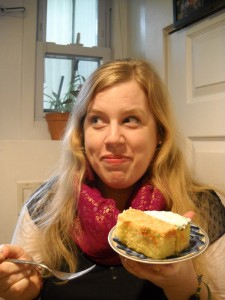 My favorite part of her posts are the Un-Roasts she adds at the end of them. It's like – I'll go ahead and speak my mind, complain if I want to, but I'm going to end on a positive note.
Here's an example from July 20th, 2010–
Un-Roast: Today I love how much pleasure I get out of eating strawberry rhubarb pie. It's really heavenly.